eMedicals Healthtech GmbH is an ambitious R&D startup in the field of nutrition sensitive diseases, based in Frankfurt am Main. The German Federal Ministry of Education and Research and the Fraunhofer Society awarded us as one of the most innovative Health-Tech companies in Germany. Therefore we are internationally promoted by the Federal Ministry of Education and Research, e.g. in China .

Our first product is kidiDNA. With kidiDNA we empower CKD patients by providing a digital nutritional assistant and disease manager based on a high precise algorithm.

In the longterm, we develop a holistic digital healthcare platform with patient-centered solutions for all stakeholders in the ecosystem of nutrition related diseases. These include also diabetes mellitus, adiposis, cardio vasculary diseases.
Mission
Our mission is to develop an intelligent nutritional assistant that empowers patients suffering from Chronic Kidney Disease (CKD) to manage the complexity of their disease and supports physicians with their therapy decisions.
Vision
In the future, our holistic digital healthcare platform coordinates the communication and interactions of all stakeholders in the ecosystem of every nutrition sensitive diseases.
kidiDNA
Our first step towards our mission is to enable patients to take a well-informed, active role in their nutritional decision process and blood pressure management. We make this possible through our Digital Nutritional Assistant: kidiDNA.
Innovation
kidiDNA is a medical application that digitalizes the services of a nutritionist. kidiDNA's high precise algorithm allows for the kidiDNA therapy, which is a personalized, real-time digital nutrition therapy based on continuously collected health data from the patient.
Value Proposition

We increase the quality of life of patients thanks to real-time nutrition therapy, enabling them to make well-informed nutrition-related decisions.



We facilitate the everyday work life of physicians through more efficient communication, by providing them with visual tools for decision making, and by reducing the frequency of required doctor visits.



We enable health insurers to save costs thanks to a decrease in required pharmaceutical consumption, hospital stays and dialysis usage of patients.



We provide new insights to research institutions, leading to innovative treatment methods and increasing the validity of studies through the availability of data from real-life settings.



We achieve a reduction of personal and financial resource wastage for hospitals, for example by avoiding unnecessary double-examinations.
Team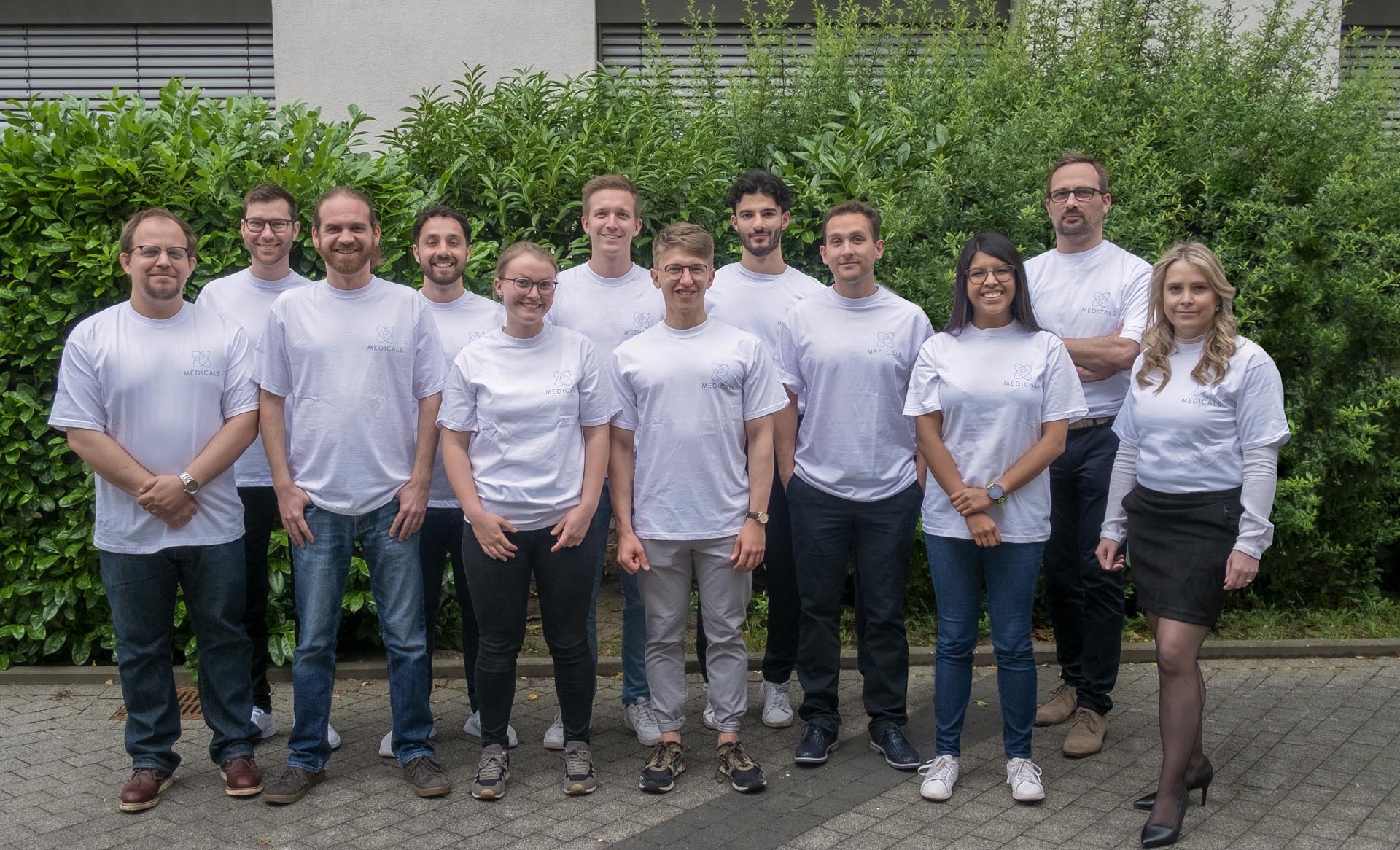 Achievements (so far)
September 2020
Presentation of kidiDNA at the annual DGfN meeting
Following an invitation to the annual meeting of the DGfN (Deutsche Gesellschaft für Nephrologie / German Society for Nephrology) we were able to promote kidiDNA in the nephrologist community and start a cooperation in the development of the physician ́s interface.
August 2020
Cooperation with Fraunhofer IGD & MEVIS
We partnered up with Fraunhofer Institutes IGD (Institute for Computer Graphics Research) & MEVIS (Institut for Digital Medicine) to set the foundation of future collaborations in areas such as visual analytics and medical data processing. The institutes consider kidiDNA a very good project that they want to support with their competence.
July 2020
Submission of grant applications
In cooperation with University Hospital Frankfurt a.M., TU Darmstadt, Bundesverband Niere e.V. and German Society for Nephrology (DGfN) we submitted grant applications to the BMBF, Loewe3 and distr@l-funding program for the financing of joint projects for research, development and marketing of digital incentive systems, visual analytics elements and AI for kidiDNA.
March 2020
Evaluation of Concept by BARMER
As germany's second largest health insurance company, the BARMER insurance evaluated our concept and classified it as very innovative.
February 2020
Evaluation of Concept by AOK Nordost
AOK Nordost recognized our therapy concept for the specific needs and nutritional requirements of patients with kidney disease as very innovative. According to the renowned health insurance company, there is currently no equivalent digital offering to kidiDNA in Germany.
January 2020
Winner of InnoHealth China 2020
eMedicals Healthtech GmbH is one of the winners of "InnoHealthChina 2020", a joint campaign by the Fraunhofer Society and the German Federal Ministry of Education and Research. Our project "Kidi - digital integrated care supply platform for patients with kidney disease", in collaboration with the University Hospital Frankfurt am Main, was awarded for its innovative concept. Within the framework of the initiative "Research in Germany", our start-up now represents Germany as a research location abroad. With this award, we will be able to take part in "Matching Tour China" organized by the German Chamber of Commerce in Beijing, China, which will take place in the Fall of 2020. This will give us the opportunity to meet with Chinese research institutions, companies and investors.
November 2019
Futura Marburg
Following an invitation by the Marburg Institute for Innovation Research and Business Start-Up Support (MAFEX), we took part in "Futura 2019", a start-up competition organized by Gerina AG. Here we placed second out of nine teams and were considered the most innovative idea in the Digital Health field. It was at this event that we were first approached by major institutional investors.
November 2019
Foundation of eMedicals Healthtech GmbH
October 2019
Cooperation with University Hospital Frankfurt a.M.
Start of medical support in terms of product development and conception of clinical studies.
September 2019
Accepted in the "ChancenNutzer" program by JP Morgan Chase Foundation, KfW and Social Impact Lab
The Social Impact Lab incubator in Frankfurt, assessed our idea as an innovation of great social impact. We inspired the judges with our future-shaping concept and were granted a place at the ChancenNutzer program, funded by the JP Morgan Chase Foundation. We were hereby given access to co-working spaces, professional business coaching, consulting services, legal advice and networking opportunities.